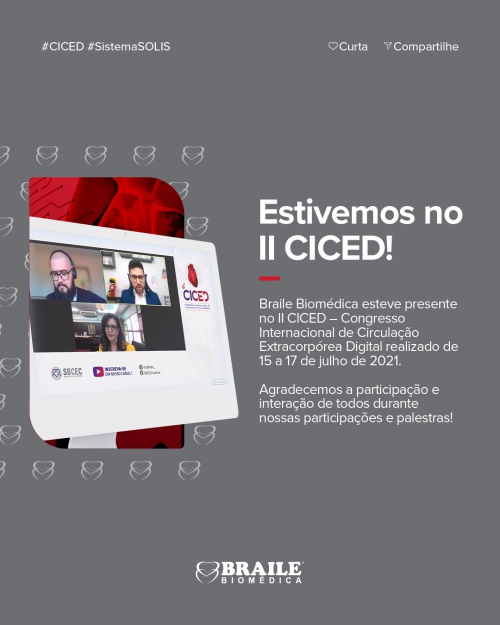 We were at the II CICED
Broadcast live on Youtube by SBCEC (Brazilian Society for Extracorporeal Circulation), CICED was a success. There were intense days with international and national lectures on relevant topics of perfusion.
And we were once again present, bringing incredible content and speakers, showing the strength and innovation of the national industry.
On the 16th, with the theme "The power of the National Industry and the next steps", Patrícia Braile, president of Braile Biomédica participated live, told the company's history, the current challenges, launch of the company's ECMO System (Solis) and prospects for the future. It was a lot of exchange of knowledge and emotion, remembering the visionary and founder of the company, Dr. Domingo Braile.
And on the 17th, with the theme "Solis System, a national ECMO solution to fight the pandemic" doctors Assad Miguel and Luiz Fernando Caneo presented on the development and experience with this solution developed at Braile Biomédica. and took praise from some participants, who expressed their satisfaction with the presentation in the chat of the event "incredible", "great lecture".