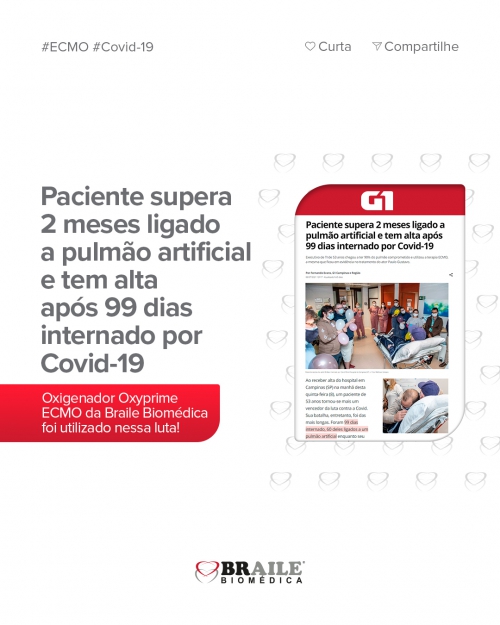 Patient exceeds 2 months linked to artificial lung
The 53-year-old IT executive, who had 90% of his lung compromised and used ECMO therapy, had a long battle with Covid-19. Of the 99 days of hospitalization, according to a report by G1, 60 days were linked to the artificial lung. And he won!
Another beautiful story with a happy ending that can be told thanks to the possibilities and solutions available in health, in particular, to national products, such as the ECMO System by Braile Biomédica, the Solis System, which comprises the equipment and set of disposables that can be sold separately, such as the Oxyprime ECMO Oxygenator, used in this patient.
With a development time of only 6 months, in partnership with the Eldorado Institute, EMBRAPII (Brazilian Company for Research and Industrial Innovation), the São Paulo Development Agency and the National Bank for Economic and Social Development, the Solis System (machine and disposables) is being used at this time in critically ill patients with Covid-19 when mechanical ventilation is no longer effective, helping to keep the patient alive until the disease regresses.
It is indicated for adults or children also in cases of heart transplantation, myocardial infarction, cardiac arrest and acute respiratory failure, a condition also caused by the new coronavirus, in which there is inflammation of the bronchi and involvement of the alveoli, small structures that make up the respiratory system and work by delivering oxygen to the bloodstream.
Complete article in full: https://bit.ly/NoticiaECMO