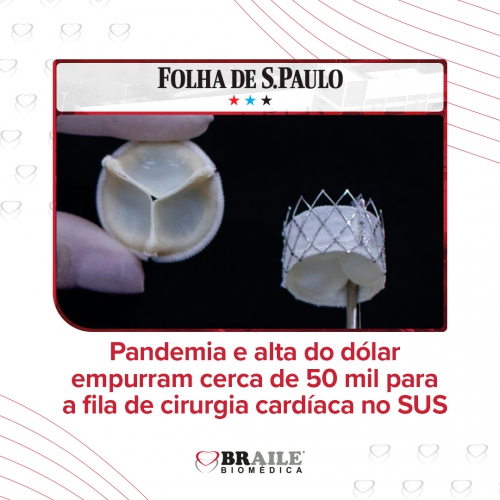 PANDEMIC AND DOLLAR RISK PUSH ABOUT 50,000 INTO THE HEART SURGERY QUEUE IN SUS
The Covid-19 pandemic and the rise in the dollar held back heart surgeries in the SUS, adding nearly 50,000 patients to the waiting list!
According to the President of the SBCCV, Eduardo Rocha, there are two main reasons responsible for the queue: the pandemic, which has stopped surgeries to guarantee ICU beds for other patients and the lack of readjustment of the table of these products in the SUS, causing many companies stop distributing.
This is because the "SUS table", which records the amount paid by the federal government for various procedures in the SUS, such as cardiovascular surgeries with cardiopulmonary bypass (which require valves, cannulas, oxygenators) have not been readjusted since 2002. No readjustment for payments and with the rise of the dollar and inflation, the account does not close.
According to the President of Braile Biomédica, Patrícia Braile, the kit used in surgery with cardiopulmonary bypass, for example, has not been readjusted for 19 years. "There is a risk of shortages. Many inputs and raw materials are imported from the United States and Europe and the values ​​are in euros and in dollars, which raises costs a lot," said Patricia for the report.
Check out the full article and follow the situation through the link: https://www1.folha.uol.com.br/equilibrioesaude/2021/10/pandemia-e-alta-do-dolar-empurram-cerca-de-50-mil- stop-cardiac-surgery-on-sus.shtml?utm_source=whatsapp&utm_medium=social&utm_campaign=compwa